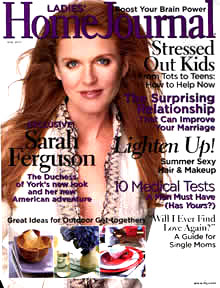 Ladies' Home Journal - A Wild Dream, June 2004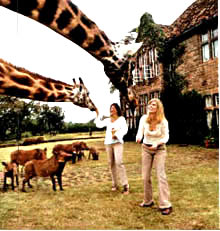 "Everything we do here is fun," says Crain (far left) hanging out with Rolls and some hungry friends.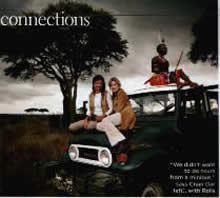 "We didn't want to do tours from a minibus," says Crain (far left), with Rolls
Ladies' Home Journal - A Wild Dream, June 2004
Two Thirtysomething women escaped from New York City to start a wooly and wonderful safari company in Africa.
Although Cindi Crain once woke up to the blaring of taxis, she now awakens to the sound of a giraffe named Bungaloo gnawing the wooden banister of her balcony. "So there I am yelling, 'Don't do that!' she says, laughing, "to a giraffe!" This sounds like the latest installment of Survivor , but no: It's a typical day for Crain, 35, and her best friend, Lisa Rolls, 37. Two years ago, the pair left behind respective careers in publishing and advertising in New York City to start their own adventure-travel company, the provocatively named VirginBush Safaris, in Kenya. And now, instead of teetering around Manhattan in high heels, they lace up their desert boots, gas up the Land Rover, and guide tourists into the untamed wilderness of the African plains.
The long strange trip began 20 years ago, when Crain and Rolls met on a high-school spring break in Key Largo, Florida, and became instant friends. But it was Rolls who set their compass for Africa. She'd gone on safari in Kenya with her mother, Elizabeth, in 1995, after the death of her father, and gotten so hooked she returned to Africa every year. In 1999, yearning for a life more in tune with nature, Rolls divorced her husband, and took off for the continent for good; her mother joined her eight months later. "I've never been afraid of taking risks," says Rolls. "So my friends weren't surprised."
She began organizing informal safaris for New York friends who wanted an insider's point of view of Kenya. Then she enrolled in the Nairobi-based Kenya Professional Guides Association, and after two years of learning everything from the flora and fauna of the bush to how to observe wildlife, she earned her certified guide license. A weary veteran of packaged tours "with checklists of animals to see through the windows of a minibus," Rolls wanted to do things differently. "There are these luxurious camps, lodges and ranches run by third-generation Kenyans, descendants of the famous hunters and explorers of the colonial era. We'd spend the day in the bush on foot or on horseback, then camp out on return to these lodges to eat gourmet meals." One of her first visitors was Crain, who went to Kenya in March 2001 and was immediately hooked. "I'd been on safari before, but this trip transformed me," says Crain. "I felt alive for the first time in years." She was also impressed by Rolls's circle of friends—an international community of wildlife researchers, photographers and bush pilots. So when Rolls suggested they form a safari company of their own, Crain, whose romance in New York had stalled and whose apartment lease was running out, jumped at the chance and moved to Kenya before the year was out. "Whenever I got nervous, I'd say to myself, 'Turn fear into excitement,'" she recalls. "It's a tiny twist in your outlook, but it works when you realize the fear of the unknown might just be fear of a great opportunity."
The two women live in comfortable houses on the same road (Rolls shares hers with Mom), only minutes apart and within an easy half-hour drive of bustling Nairobi. Both homes are on the grounds of Out of Africa writer Isak Dinesen's old coffee estate. It's Rolls who generally leads tourists out to the bush, while Crain handles administrative chores. During the 10- to 21-day trips, which cost $600 a day, the groups are loaded into canvas-top, all-terrain vehicles and bush planes, taking off for a world where people are scarce, and zebras, cheetahs and lions roam. At night, the groups either camp out or stay at luxury lodges, such as Elsa's Kopje, which is built out of a granite outcropping and named after the orphaned lion cub in Born Free .
"Life in Kenya is the adventurous, soulful existence I'd always been longing for," says Rolls, who's gearing up for the busy summer season. She misses her friends and the Manhattan skyline, but not much else. "This job is second nature to me and Cindi, and it will stay that way as long as we're having fun," she says. "That defines everything we do here."