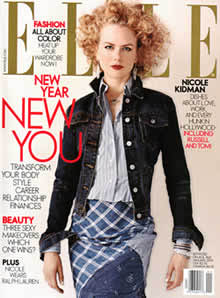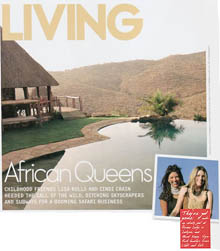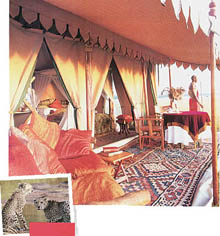 Elle: African Queens, January 2003
AFRICAN QUEENS
Childhood friends Lisa Rolls and Cindi Crain heeded the call of the wild, ditching skyscrapers and subways for a booming safari business.
BY DANIELLE NUSSBAUM
Lisa Rolls and Cindi Crain, founders of boutique safari trip outfitter VirginBush , know that their company name is a bit cheeky. "Men love it; women relate to it," says Crain, thirty-four, former editor in chief of Golf & Travel magazine. Well, not all women: When Crain told her mother, she asked after a long pause Are you sure you want to call your company that, sweetie? The name isn't just attention-getting, however. It's an apt reference to the pristine and sometimes uncharted African frontier that is the company's backyard.
As senior advertising VB at Ammirati Puris Lintas in New York, Rolls was an avid traveler. After the death of her father in 1995, she and her mother decided to spend a restorative holiday in Africa. Rolls, thirty-five, whose favorite movie is Born Free and who has a penchant for quoting Thoreau, was so smitten she returned three times, settling in Kenya full-time in 1999. Crain, a close friend since high school, visited in 2001 and realized that she, too, could and should leave New York behind.
Inevitably, friends, and friends of friends, wanted to avail themselves of their insider advantage, so Crain and Rolls began organizing custom itineraries: prowling with lions on the Laikipia plateau; horseback riding in the Masai Mara, along zebras, wildebeests, and giraffes, tracking elephant herds in Saburuland; dancing with Morani warriors; and sand yachting around Swahili Coast dunes. Their business exploded, and today they regularly escort groups of four to twelve, staying in private lodges and luxury tented camps draped in Bedouin-style silks or strews with embroidered pillows, where guests can lounge in a river pool with a martini or get a massage with the Great Rift Valley as a backdrop.
As one of only two licensed American female guides in East Africa, Rolls can access lands outside the game parks to which most packaged tours are restricted which can make for some close encounters. On one nighttime bathroom break, Crain and Rolls found themselves staring straight into the eyes of en elephant, who quietly ate some of their fruit and lumbered away. Vervet monkeys have broken into our tents and made off with birth-control pills. Baboons have stolen beers and enjoyed them while watching us from the sidelines, Rolls says.
But frontier living is what the company is all about. In the bush, you're completely presented with yourself no distractions, no ladder to climb and your whole perspective can change, Rolls says. We once were our clients, so we know what stressed urbanites need. We prefer not to take incurable type-A personalities into the bush. If they won't part with their watches, we're probably not the right choice.