Cindi Crain - Owner / Director, VirginBush Safaris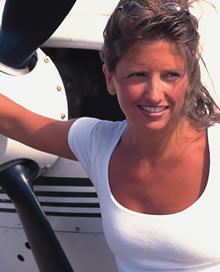 Cindi has been inflicted with a bad case of wanderlust since childhood, and her parents unwittingly fueled the condition. In its early days, the family traveled to far-flung locales such as Australia and South Africa, often pulling Cindi and her sister out of school with the only penalty being that the girls had to keep a diary of their experiences to share with their classmates.
It was no wonder that Cindi graduated high school one year early so that she could set off to Boston to start a new adventure in college, and ultimately would become a travel magazine editor with a love of words and pictures.
After college, Cindi moved to New York and worked in advertising and direct marketing, almost all the time focusing on the companies' travel-related clientele, such as American Express and Hyatt Hotels & Resorts. After three years, however, she decided she was in the wrong career, and so she quit her job, moved out of her apartment and kissed her friends and family goodbye to set off on an 18-month solo trip around the world. She wasn't quite sure what she would find, but in the end what she was looking for was with her all along.
She kept diaries and wrote poetic letters to friends, describing with fascination the characters, food and customs of Bora Bora, Thailand, Provençe, Buenos Aires, Bali, Australia, Hong Kong, Antarctica, Peru and more. She crewed on a yacht, went trekking with elephant, huddled with flocks of penguin, danced the tango, laid offerings to Buddhist gods, and in the end knew that she was happy as long as she could simply convey these experiences to others.
So when Cindi finally came home, she went straight into the Medill School of Journalism, in Chicago, as her father had, to earn her masters degree in writing, particularly for magazines.
So you can guess what her first job was after that: She became an editor for a travel magazine. At Travel Holiday, in New York, Cindi wrote the magazine's most popular department, and spearheaded the magazine's first website, in the embryonic days of the internet (naturally using every bit of her vacation time to continue her adventures to Asia, the Caribbean and more).
Next, Cindi saw an opportunity to create a new luxury travel magazine for golfers, the first of its kind, with her father, a longtime publisher. Golf & Travel was born in 1997, which Cindi ran with gusto as its editor for several years. She blissfully worked with the top travel writers and photographers, and, with her staff of six, artfully laid out each bimonthly issue.
In 2000, Cindi handed the reigns to a new editor, and remained in New York to consult on several coffee-table book subjects she'd had a longtime interest in, from fly fishing to custom publishing. However, around this time is also when her travels to Kenya began, to see Lisa Rolls, her best friend of 18 years and longtime partner in crime. The two traversed the country from north to south, east to west, making good friends of luxury camp managers, expert guides and local legendary characters all the way.
Lisa had lived in Kenya a few years at that point, and had earned her safari-guiding license with her significant bush skills. Lisa's former colleagues from her advertising days in New York were soon demanding she take them on safari. Thus Lisa and Cindi, armed with almost two decades of adventures together around the world, started Virgin Bush Safaris , a company where exclusivity, style, active adventures and connection with the bush are paramount.
Cindi left New York at the end of 2001, and moved into "The Dairy", the house near Nairobi where Out of Africa was filmed.
Cindi and Lisa's only promise to one another was that they would continue Virgin Bush only so long as they were having fun, and they were last seen flying low over the Rift Valley in a light aircraft, with chilled glasses of Champagne, following flocks of flamingo as the African sun set on yet another ridiculously lovely and intrepid day.